Posted Wednesday, March 27th 2013 @ 11am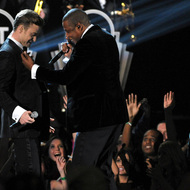 Jay-Z as this generation's Frank Sinatra.
Sounds a little far fetched, but it'll all make sense after reading this blog.
Mr. Z enjoyes the company of pretty women, enjoys a good scotch, and the story below just throws a nice little bow on the whole thing:
• Jay-Z has reportedly hired a professional cigar roller for his upcoming tour
• The rapper apparently wants to create a "gentlemen's club" backstage at all of the dates on his "Legends of the Summer" tour with JT
Full story here.