Posted Friday, February 1st 2013 @ 10am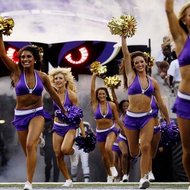 If this doesn't straight up make you mad, you need to check yourself for a pulse.
• Veteran Ravens cheerleader Courtney Lenz barred from the Super Bowl
• Lenz has been a member of the team's cheerleading squad for 5 years but she has been barred from the Super Bowl sidelines because she announced her retirement at the end of the regular season... yet OTHERS believe it's because she gained (not kidding here) 1.5 pounds.
• She explained, "I'm just devastated by the whole situation...I didn't even think there would be a chance of me not going with being a five-year veteran."
• Lenz believes the Ravens are simply punishing her for quitting the team
She's pictured below. You find me ANY red blooded straight American male that doesn't think ol' Courtney is GORGEOUS, and I'll find you a liar.
Read the full story here.